Transparent Gifs
In this tutorial you will learn how to make a transparent GIF,
and also a TUBE (.tub) using Paint Shop Pro 7
We will start with this cute kitten peeking in a tea cup.




Right click on the graphic above and save to your hard drive
Open the graphic in PSP and zoom 2 or 3 times so you can see better.
Go to Layer pallette right click on "background" and promote to layer.




Using the eraser tool set at size 5, erase all around, but not to close to the kitten.
If you erase to much, hold down right mouse button to "unerase".




Now change the eraser to size 1 and zoom in more if needed so you can see clearly.
Finish erasing the background all around the kitten and cup.
When finished, your graphic should look like this.




Now you can export as a gif using existing transparency.
If you want to save as a .tub you can also export as as Picture Tube.

Put on a background and add drop shadow.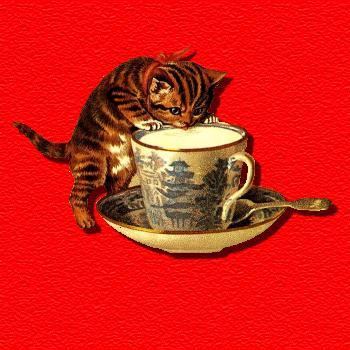 Tutorials
Home